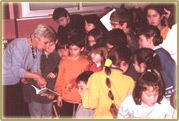 Chit Chat
In addition to my writing, I spend time in schools to help develop the writing skills and to talk about my own work. I also speak at conferences and seminars at the open universities and libraries to share the subjects of my writing: Laennec, Chateaubriand, La Dame à la Licorne, Marion du Faouët, Brittany in the Middle Ages.
My planning for the next few months

Printemps 2019
Après des mois de silence et de travail, je refais enfin surface avec un nouveau roman, un gros pavé de 400 pages qui sortira au printemps chez Coop Breizh. Il s'intitule provisoirement "La Fleur et le Fusil". De quoi s'agit-il? Ce n'est pas une saga, ce n'est pas un récit. Disons que c'est une biographie romancée des trois premiers quarts du XXe siècle.