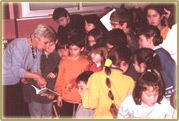 Chit Chat
In addition to my writing, I spend time in schools to help develop the writing skills and to talk about my own work. I also speak at conferences and seminars at the open universities and libraries to share the subjects of my writing: Laennec, Chateaubriand, La Dame à la Licorne, Marion du Faouët, Brittany in the Middle Ages.
My planning for the next few months

Lamballe, 15 mai 2018
A l'invitation de l'UTL de Lamballe Penthièvre, je parlerai de Laennec le mardi 15 mai prochain à Lamballe. Causerie à deux voix, puisque Suzanne Brisemur se chargera de lire des extraits de textes originaux.